Q&A with Chef Jason Aldous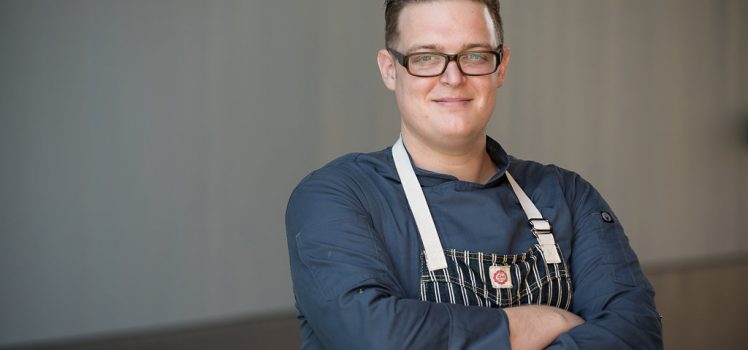 Did you know we have an amazing Chef at the restaurant at Friday Harbor House?
If you do, that's great!
If you don't know, haven't heard or experienced his fabulous cooking, let's get to know Chef Jason Aldous a little better in a Q&A session.
So, what's so special about the restaurant at Friday Harbor House?
Our restaurant combines one of the most beautiful places in the world with a modern place to dine.
We have contemporary and eclectic food as well as a craft bar program.
It is a special place to spend time with family and friends over a meal.
What's your philosophy about cooking?
I embrace hyper local ingredients only when it makes sense.
For example: lemons don't grow in the San Juan Islands, but they are an incredible ingredient that travels well.
However, I always buy heirloom tomatoes from local farmers because a day or two of travel is detrimental to their quality.
I like to use flavors inspired by where I grew up and places I've traveled, but with Pacific Northwest touches.
Are there any interesting or intriguing cooking techniques you utilize/follow?
I have years of experience cooking with wood fire and often integrate those techniques into my food.
Prior to my time at Friday Harbor House, I also spent years cooking in New Nordic Tasting Menu restaurants.
I use techniques learned from that such as fermentation and preservation.
Additionally I have spent a lot of time learning about wild edible plants and like to integrate foraged foods.
How are you pushing the envelope at the restaurant?
We have been and continue to forge our own path up here on San Juan Island.
The restaurant isn't defined by a certain cuisine or culinary style.
We cook food we want to eat – it is technique and ingredient driven, but accessible to anyone.
We try to ensure we consistently utilize unique ingredients.
What's your background/where did you come from?
The last three chefs I worked for (Blaine Wetzel, Bowman Brown, Viet Pham) were all Food & Wine "Best New Chef" winners.
They all have multiple semifinalist nominations for James Beard Awards including two wins by Blaine Wetzel.
Prior to taking the helm at Friday Harbor House, I served in various roles at some of the most celebrated dining experiences in the Northwest.
I was the executive chef at Camano Island Waterfront Inn and sous chef at Willows Inn on Lummi Island as well as forage in Salt Lake City, Utah.
I am a graduate of the culinary arts program at Utah Valley University in Orem, Utah.
During my free time, you can find me exploring the islands with my wife and two children.
The team at Friday Harbor House is proud and honored that Chef Jason is a part of our crew!
We are so proud, we nominated him for a James Beard Award – "Best Chef in America: Northwest."
Stay tuned!