Friday Harbor is Quiet This Time of Year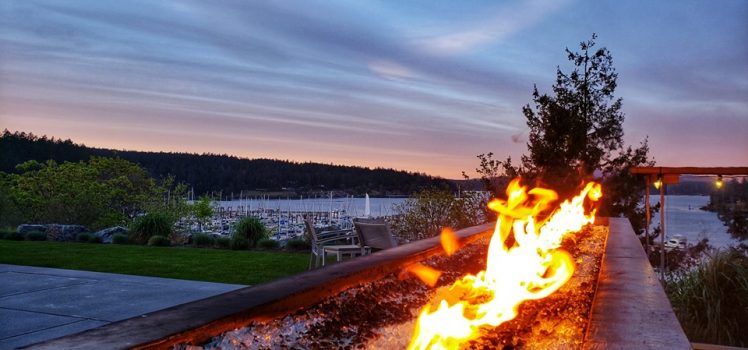 Friday Harbor is quiet this time of year.
The hustle and bustle of the holidays are over, and everyone is ready to rest and relax.
So now is the time to plan your island escape for the winter with us at Friday Harbor House.
We are located atop a bluff overlooking the scenic harbor, just two blocks from the Friday Harbor ferry terminal.
To highlight the waterfront character of Friday Harbor, each guestroom offers earthy elements complemented with modern finishes.
When you stay with us, you can choose from our menu of pillow options.
You also receive our Salish Sea Dream Kit designed for ultimate relaxation.
To get you motivated to plan your rejuvenating getaway, we have the perfect packages and specials for all types of travelers.
First, consider our Island Enchantment package:
Friday Harbor House is the perfect year-round choice for romancing your sweet someone.
Leave the hustle and bustle behind and experience a scattering of rose petals, sparkling wine, fruit, and cheese upon arrival.
The next day you can wander the town together holding hands and enjoying the shops and galleries.
Return to Friday Harbor House for a 60-minute couples massage provided in the privacy of your room.
Then sink into a romantic bath with a bath bomb that will fill your jetted tub-for-two with wonderful scents.
Our Island Enchantment package includes:
Two-night stay
Bottle of sparkling wine with a fruit and cheese plate
Rose petals scattered in your room upon arrival
Lush Fresh Handmade Cosmetics bath bomb
In-room 60-minute couples massage
Second, if food is your passion, consider our Epicurean Escape package:
Want to indulge in an authentic island dining experience?
Then, let the feast begin with a cheese board and a bottle of wine in your room upon arrival.
Next, join us at the restaurant for a five-course tasting menu.
To finish evening, top it off with a relaxing evening in front of your fireplace and jetted tub-for-two.
Our Epicurean Escape Package includes:
One-night stay
Five-course tasting dinner for two
Artisan cheese board and a bottle of our Friday Harbor House Red Blend upon arrival
Third, if mixing it up with an adult beverage or two is your way to chill out, consider our Sip San Juan package:
Shake up your weekend plans with a fun adventure to San Juan Island.
Stay two nights with us and look forward to sipping wines, a distillery tasting, and sampling great brews.
There's no better way to explore the island!
Our Sip San Juan Package includes:
And finally, everyone deserves a celebration, right?
Whether a special occasion or just a great accomplishment, celebrate with a getaway to our House with our Celebrate You package.
Toast your arrival with sparkling wine before indulging in dinner for two at the restaurant.
Top it off with house-made chocolate truffles in your room.
Relax in your oversized jetted tub with the Lavender Mini-Essentials Collection and feel refreshed after a restful night's sleep.
Cheers!
Our Celebrate You package includes:
One-night stay
Bottle of sparkling wine and house-made chocolate truffles in room upon arrival
$50 dining credit
Pelindaba Lavender Mini-Essentials Collection (body wash, hand & body lotion, massage oil, body butter and a tea light candle)
To guide you, follow your passions, whether it be the beautiful scenery, food, drinks or just down-time.
Take time to pamper yourself with rest and relaxation during your winter island getaway.
Visit the San Juan Islands Visitors Bureau to see what's new on the islands as well.
Come relax and rejuvenate with us in Friday Harbor during this quiet time of year.