September – an Amazing Time to Visit Friday Harbor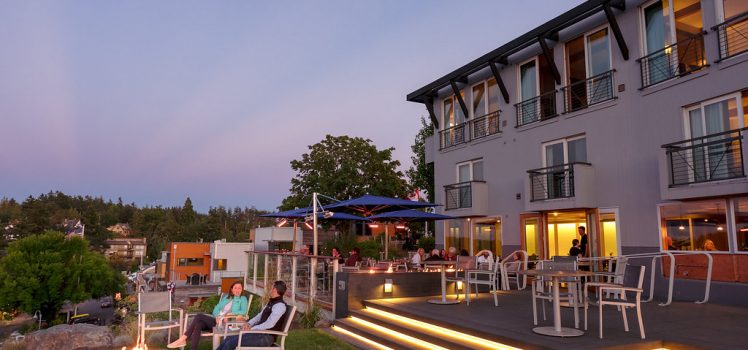 September is an amazing time to visit Friday Harbor and the San Juan Islands as it marks the beginning of the annual "Savor the San Juans" festival.
And it is a feast for the senses.
From wine tastings to a brew fest, farmers markets to farm tours, the 12th annual "Savor" officially kicks off September 21 and runs through November 9.
Also included, film festivals!
Wines and wineries:
San Juan Vineyard is a beautiful 30-acre vineyard, winery, and historic tasting room.
While visiting, you can sip from a line-up of award-winning wines including estate-grown Siegerrebe and Madeleine Angevine.
The grapes they grow on their island estates are made into light, refreshing white wines.
Those wines pair perfectly with seafood and light meats.
You can also enjoy the ambiance of the grounds at a barrel tasting or harvest festival.
Oktoberfest:
Join San Juan Island Brewing Company for their 3rd Annual Oktoberfest Celebration on October 12 from 11 a.m. – 9 p.m.
The celebration will feature up to 13 different styles of traditional ales and lagers all handcrafted in house.
Also expected, a German-themed menu, live music, costume contests, and games and activities for all ages.
Farmer's Market:
Open every Saturday, April through October from 9:30 a.m. – 1 p.m., the San Juan Island Farmers Market features delicious island-raised produce, fruit and dairy products as well as fresh local seafood, shellfish, meats, and cheese.
Also, don't miss the prepared food vendors that bring market customers delicious items like freshly baked goods, local seafood paella, San Juan Sea Salt, and homemade pasta!
The farmers market also hosts a wide range of talented, local artists and community organizations each week.
You can find the market at the historic Brickworks community center, just two blocks from the ferry landing.
Farm tours:
Rolling farmland, barns and farmhouses, fields of hay and livestock – the islands are home to a variety of farming styles.
Meet the largest herd of alpacas in the islands, or wind through a sweeping valley dotted with cows and sheep.
Find out what it takes to run a farm or spend your day picnicking in fields of lavender.
Visit them all during the San Juan Island Farm Tour September 21-22 from 10 a.m. – 5 p.m.
Film Festival:
The exciting seventh annual Friday Harbor Film Festival is October 25-27.
This year the festival will screen 31 new documentary films, 23 short films, and a selection of films produced by student filmmakers.
Films will be shown in six venues, all within an easy walk from the ferry landing, airport, and port.
And while your sampling the bounty of the San Juan Island, make our House your home.
Friday Harbor House perfectly complements the charm and serenity of the San Juan Islands with its modern, comfortable design.
Your room features a cozy and romantic atmosphere complete with a king bed, picture window, gas fireplace, and an oversized jetted tub – the perfect way to wind down at the end of your day.
After a peaceful night's sleep, you are greeted in the morning by the sun rising over the bluff.
Watch the ferries and boats come and go while sipping coffee in your room or as you enjoy brunch in our restaurant.
Our charming and modern hotel, just steps from town, offers the best hospitality and views in Friday Harbor.
From helping to arrange island activities to setting up a romantic night in, our team is here to make your stay unforgettable.
We can't wait until you #comebythehouse.