Get Away and Find Romance in Friday Harbor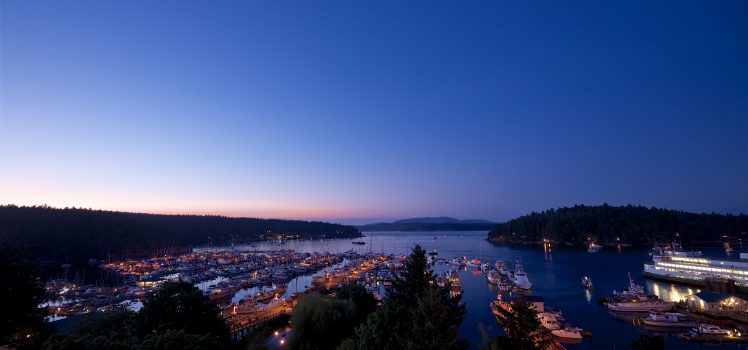 The first few weeks after the holidays can be tough and seem like there's nothing to look forward to, but there is always something fun in the month of love – Valentine's Day!
So, get away and join us in Friday Harbor.
During the Month of Love, sneak away for an intimate midweek retreat to celebrate your love.
Arrive to scattered rose petals, sparkling wine, fruit, cheese, and chocolate covered bourbon-soaked cherries.
Relax in your luxurious guestroom before setting off to explore the island.
Then enjoy some time unplugged with your sweetheart, whether you prefer to snuggle up by the fire or sink into a romantic bath.
If you can't escape during the week, our Island Enchantment package is perfect for you.
Leave the hustle and bustle behind and experience a two-night stay.
Your trip includes a 60-minute couples massage provided in the privacy of your room.
Wander the town together holding hands and enjoying the shops and galleries.
Then sink into a romantic bath with an aphrodisiac bath bomb that will fill your jetted tub-for-two.
Check out all the Friday Harbor House packages and specials!
If you and your love are interested in exploring the island, there are a whole host of fun activities and events to engage with.
Beginning on Feb. 2, stroll through the San Juan Islands Museum of Art for the 2019 Artists' Registry Show.
The show features the works of 70-plus artists from San Juan County and the art spans painting to jewelry, sculpture to textiles, mixed media to printmaking.
Enjoy free admission on Valentine's Day, February 14.
If you want to check out a movie with your love, on the first and third Tuesday (from Jan. 15-June 4), the Friday Harbor Film Festival screens The Best of the Fest at The Grange.
The February films include: Feb. 5: Big Sonia and Feb. 19: Rumble.
Then on Sunday, February 24, at San Juan Community Theatre, Friday Harbor Film Festival holds its' annual Oscars Fundraiser Gala!
Dress up and enjoy a glamorous, fun evening watching the Oscars live on the big screen at Whittier Theater with your love.
No matter your interest, you will find an activity or event to celebrate with your someone special during the month of love.
We can't wait to see you!