Savor the San Juans this Fall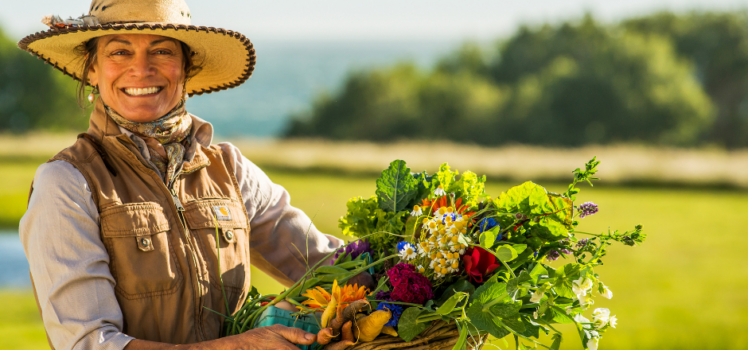 Leaves transitioning from green to reds, oranges, and yellows signify another summer falling away. Here in the San Juan Islands, another sure sign of fall is when the streets seem to mirror the trees dropping their leaves as the once bustling sidewalks become less and less crowded.
As the seasons shift from summer to fall, there are many opportunities to tap into island time, enjoy the island at your own pace, and savor the San Juans – literally!
This fall marks the 15th year of the San Juan Islands Visitors Bureau's "Savor the San Juans", a celebration of local farms, food, and films.
If you'd like to explore San Juan Island and are looking for a home base, Friday Harbor House is here to make our House your home. Stays between September 6 and October 31 will receive a 10% off our Best Available Rate with our Savor the San Juans & Save offer. Islander Tip – enjoy the less busy side of the island with a midweek stay and receive a bottle of San Juan Vineyards wine.
Our charming and modern hotel, steps from town and ferry landing, offers some of the best hospitality and views in Friday Harbor. Your room features a cozy and romantic atmosphere, with a king bed, picture window, gas fireplace, and an oversized jetted tub.
To inspire your trip here's an inside look at all the island has to offer in celebration of "Savor the San Juan's."
San Juan Island Farm Tours
San Juan Island is home to an abundance of farmers. We celebrate their dedication to offering fresh and delicious bounty throughout the year. From educational presentations and delicious foods to free kid's activities, pressing cider, and friendly farm animals, there is truly something for everyone.
When: September 22-25
Where: Visit Farm Tours San Juans for the latest info.
San Juan Island Farmers Market
If traveling out to the island's plethora of farms doesn't fit your schedule, not to worry, as multiple farms can be enjoyed at the San Juan Island Farmers Market!
The lively and vibrant market features delicious island-raised produce, fruit, dairy products, fresh local seafood, shellfish, meats, and cheese.
Don't miss the prepared food vendors that bring market shoppers delicious bounties like freshly baked goods, local seafood paella, San Juan Sea Salt, and homemade pasta from Orcas Island.
Many of the island artisans can also are scattered amongst the food vendors selling their unique quality crafts!
When: Saturdays from 9:30 a.m. to 1:00 p.m. until October 1
Where: Brickworks
Savor, then Sip San Juan Wines
For local wine, San Juan Vineyard is a beautiful vineyard with 30 serene rolling acres, a winery, a historic tasting room, and fire pits for relaxing and is located just on the outskirts of town.
While visiting, you can sip from a line-up of award-winning wines, including estate-grown estate-grown Siegerrebe and Madeleine Angevine. The grapes grown on their island estates are transformed into light, refreshing white wines and pair perfectly with seafood and light meats.
Book our Savor the San Juans offer, stay midweek, and receive a bottle of San Juan wines.
Cheers to Local Beer!
If beer is more to your taste, join San Juan Island Brewing Company for their Oktoberfest Celebration.
Enjoy a variety of local handcrafted beer, a German-themed menu, live music, costume contests, and games and activities for all ages.
When: October 1 and 2 from 11:00 a.m. – 9:00 p.m.
Where: San Juan Island Brewing Company
Friday Harbor Film Festival
If you're interested in experiencing some of the art scenes on the island, then the Friday Harbor Film Festival is for you. Each year the festival invites dedicated, talented filmmakers to highlight their documentary films' unique ability to inspire and enlighten audiences. This year's documentaries highlight island cultures, marine ecology, heroic adventures, sustainable agriculture, and more stirring stories of human interest.
When: In theaters on October 21 – 23. Cozy up in your hotel room October 24 – 30, when on-demand screenings are available.
Where: San Juan Community Theater
Along with scheduled Savor the San Juan activities, the island in fall has so much to offer, from shopping in town to exploring parks, hiking, kayaking, and whale watching.
Our brunch menu at The Restaurant offers the perfect pre-adventure fuel for your day with views that will excite you for what's to come!
After checking items off your San Juan Island bucket list, come back to The Restaurant to relax and enjoy our locally-sourced dinner menu. Indulge while watching the ferries come and go, sip in the breathtaking sunset views from the patio, then unwind in the comforts of your room.
No matter what activities fill your stay, after a busy day of reaping the bounty of San Juan Island, relax and make yourself at home back at Friday Harbor House. We are here to help make your experience unforgettable.