Visit Friday Harbor in the Spring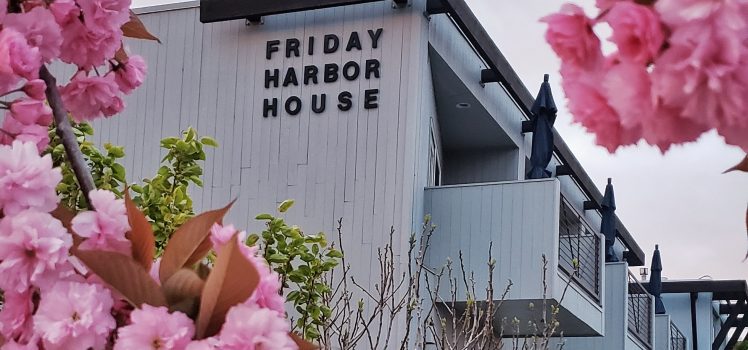 Have you made Spring getaway plans yet?
If not, April is a great time to visit us!
The weather is warming up and the sun is shining more every day here in the PNW.
Of course, because of the better weather, there are more things to do in the San Juan Islands.
The month of April is the kick-off for the San Juan Island Farmers Market.
Every Saturday through October from 9:30 a.m. – 1 p.m., you can find the market at the historic Brickworks community center.
It's just two blocks from the ferry landing.
The SJI Farmers Market features delicious island-raised produce including berries, eggs and dairy products.
You can shop for fresh, local seafood, shellfish, meats and cheese.
Also, don't miss the freshly cooked and prepared food vendors.
Market customers can munch on delicious items all made from local ingredients:
freshly baked goods
local seafood paella
San Juan Sea Salt
homemade pasta
While you walk around the Farmers Market and shop for island-grown flowers, you can listen to and enjoy live, local music.
The Market hosts a wide range of talented, local artists and community organizations each week.
Visit the SJI Farmers Market Facebook page for additional information.
April is also the kick-off month for Spring Family Art Days (FAD).
Most Saturdays, from 1-5 p.m., you can join the art of discovery at the San Juan Islands Museum of Art (SJIMA).
Spring FAD continues the year-long family fun where everyone learns and creates.
You can even take your art home that day.
Art ideas will include marine life of the Salish Sea and ecological concerns of local and global nature.
April 6 – Paint a townscape of Friday Harbor – include those you'd like to see! Acrylic painting on plywood.
April 13 – Work on building a 3-D house. Explore igloos, huts, pueblos, and longhouses. 3-D poster board construction.
April 20 – Help children in need! Make original cards and small 3-D items to sell. Graphic design.
April 27 – Trash to treasure never looked so good! Build artful things out of recyclable items.
Next, consider shaking up your weekend plans and stay two nights with us at Friday Harbor House.
In our Sip San Juan package, you can look forward to sipping wines at San Juan Vineyards, a tasting at San Juan Distillery, and sampling great brews at San Juan Island Brewing.
There's no better way to explore the island – cheers!
This package includes:
Two-night stay at Friday Harbor House
Wine tasting for two at San Juan Vineyards
Distillery tasting for two at San Juan Distillery
Beer sampling for two at San Juan Island Brewing
Have a reason to celebrate?
Everyone deserves a celebration.
Whether an anniversary, birthday or just a great accomplishment, celebrate with a getaway!
When you arrive, toast with sparkling wine and indulge in house-made chocolate truffles.
They will be waiting for you in your room.
Then indulge in a delicious dinner for two at the restaurant.
You can also relax in your oversized jetted tub with the Lavender Mini-Essentials Collection from Pelindaba and feel refreshed after a restful night's sleep.
This package includes:
One-night stay
Bottle of sparkling wine and house-made chocolate truffles in room upon arrival
$50 dining credit
Pelindaba Lavender Mini-Essentials Collection (body wash, hand & body lotion, massage oil, body butter and a tea light candle)
No matter your reason for visiting, come spend time with us in the Islands during the Spring season!