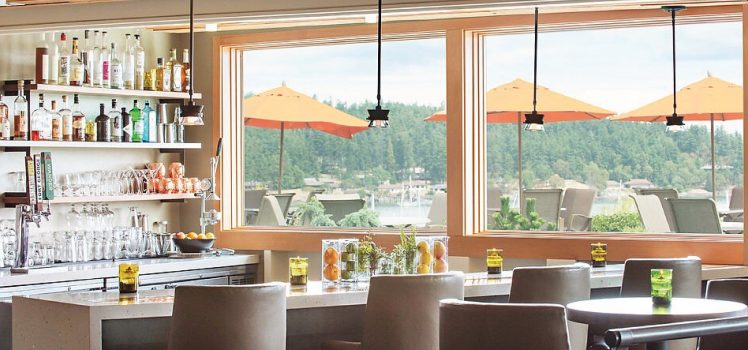 Happy hour.
Two simple words that can spark delight in just about everyone.
Not only is happy hour a time to try unique restaurant and bar offerings at a discounted price, it is also a great excuse to get together with friends and family.
Laugh, tell stories, reminisce with old friends, share photos of your fur babies (or human babies – up to you), or indulge in that much-needed drink after a hard day.
However you like to spend happy hour, enjoy it atop a bluff surrounded by breathtaking views.
Imagine sipping craft cocktails and enjoying mouthwatering bites all while taking in the panoramic views of the San Juan Channel, ferry landing, marina, and boats drifting by in the harbor.
There's nothing quite like enjoying happy hour atop a bluff in Friday Harbor, and we know the perfect place to experience this.
The restaurant at Friday Harbor House offers happy hour Thursday-Monday from 5pm-6:30pm exclusively in our Bar & Lounge.
Enjoy special happy hour items like our Spicy Chicken Sandwich, House Popcorn, Duck Fat Fries, Pinot Noir Flights, House Infusions and other tasty drinks and treats.
View our full happy hour menu here.
Our restaurant, and dining experience as a whole, is about to get even more incredible this spring.
You might ask, what could possibly make the views from Friday Harbor House better?
The answer is more space to enjoy them.
Construction on an expanded, upgraded outdoor deck at the restaurant at Friday Harbor House is underway and on schedule to be completed by the beginning of May 2018.
Just in time for summer!
Designed with a focus on enhancing guest dining experiences, the deck will feature comfortable seating, a fire pit, and an outdoor kitchen.
With over twice as much available outdoor dining space at the restaurant, there will be plenty of room to revel in Friday Harbor House's stunning San Juan Channel vistas and feast delectable Northwest fare.
In the meantime, indulge in our happy hour while dreaming of those sunny summer days out on our new deck, coming soon!
Sip, enjoy, relax, and #comebythehouse for happy hour!